Daniel Drache
Professor Emeritus, Political Science
Senior Research Fellow, Robarts Centre for Canadian Studies
York University – Toronto, Canada
Go to SSRN
Wikipedia
ACADEMIC APPOINTMENTS
York University
Professor Emeritus and Senior Scholar (2012 – )
Robarts Centre for Canadian Studies: Director (1994-2003), Associate Director (2004-2010) and  Acting Director (2011), Senior Research Fellow (2011- )
Faculty of Environmental Studies; Program in Social and Political Thought (cross-appointed 1994-1999)
Atkinson College:  Lecturer (1971); Assistant Professor (1974), Associate Professor (1978), Chair of Political Science (1988-91); Professor (1993).
Visiting appointments
LEST/CNRS, Aix-en-Provence, France (1979-80); CEPREMAP/CNRS, Aix & Paris  (1982-83); Canadian Academic Centre & Europa Instituto di ricerca interdisciplinare, Rome (1987); European University Institute, Florence (1991-92);  UQAM (1993-96),  U. de Montpellier &  Université de Lille 1 (1996); University of Western Sydney, Macquarie University & UNSW Australia  (1997);  Massey College, University of Toronto (2003-04);  Arizona State University, (2007-08); Argentina-Canada Visiting Professor  (2009); University of San Juan (2009);  Shastri-Indo Canadian Institute  New Delhi (2009);  Jawaharial Nehru University, New Delhi (2010); UN World Economic Survey, New York & Geneva (2010);  Wuhan University of Technology (2011, 2016, 2020);  Beihang University, Beijing (2015, 2019); Tamkang University, Taipei (2019).
Directorships and  other academic appointments 
Founding organizer, Canadian Political Economy, Laval University, Quebec City, CPSA, Learned Societies (1976); Harold Innis Centenary Celebration (1992-05); Political Economy Summer Institutes, York University (1991-92); Routledge Series Editor, Innis Centenary series: governance and change in the global era, (1996-2015); Co-Editor, Canada Watch, York University (1994-2004)
Adjudicating Committees (Chair or member): Canada Research Chair College of Evaluators (2002-to present); SSHRCC (2005 – present); Evaluator, EU Fifth Research Program (2004-05)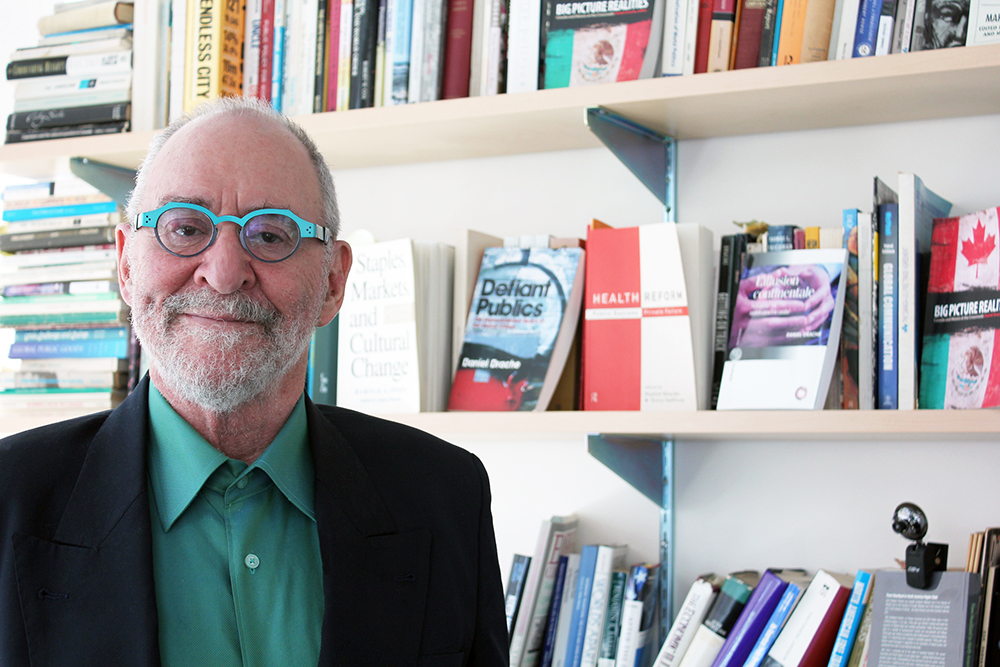 Lens: My work focuses on mapping and documenting the complexities of globalisation at a time of unparalleled inequality. Through active public engagement, community and critical expression we can change the global narrative in alternative and dynamic directions. You will find here many research projects on social transformation, collaborations, books, academic articles, contemporary videos spanning 50 years of critical theoretical and practical research.
Deliverables: I've researched and written on various topics from an interdisciplinary perspective such as: global governance and the WTO (with particular focus on public health, the breakdown of the Doha Round negotiations and poverty eradication); NAFTA and North American integration; activist counterpublics and the iconography of dissent; the foundational political economy of Harold Innis and contemporary resource capitalism, and present-day media monitoring such as  Canada's Missing and Murdered Aboriginal Women.
Future Present: Currently I am leading a collaborative research project on the BRI, China's global infrastructural initiative. It is now published by Bloomsbury, 2019, One Road Many Dreams China's Bold Plan to Remake the Global Economy. My latest project with Marc Froese is entitled, Have the Populists Won? The War on Liberal Democracy, ECW, 2022.